Training material provided by Nordic Beauty.
TECHNIQUES
Hygiene and safety
Hair structure knowledge
Hair color knowledge
Hair care knowledge
Client Consultation
Shampoo & head massage
BEGINNERS
Beginner/no previous experience needed.
Roots color and full color
Highlights & lowlights
Balayage & Face contouring
Neutralizing & toning
2 days knowledge – 8 days color techniques
Duration: 10 days
Internship: 20 days
PRICE
KHDA (UAE Diploma): AED 15,000
ITEC (International Diploma): AED 21,000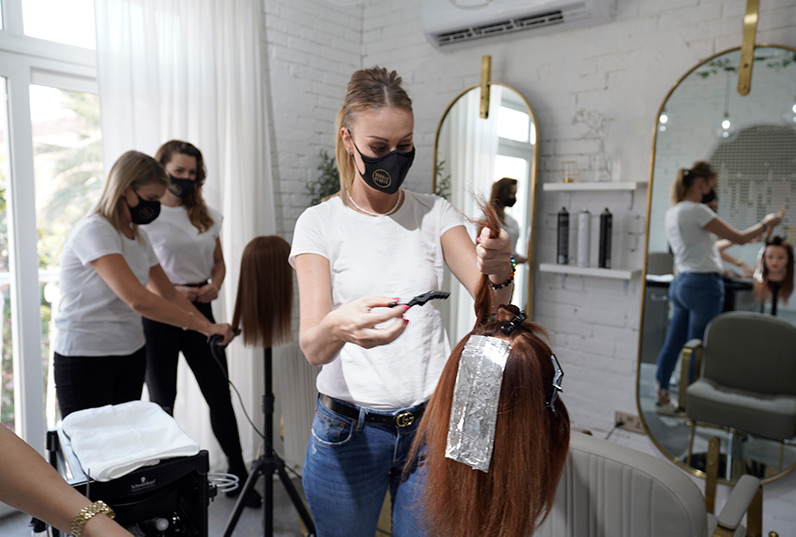 JUNIORS
Basic knowledge is mandatory. Customized based on experience.
1-day knowledge – 4 days color techniques
Duration: 5 days
Internship: 10 days
PRICE
KHDA (UAE Diploma): AED 7500
ITEC (International Diploma): AED 13,500
Why should you go for a hair coloring course in Dubai at Nordic BTC?
A hair coloring course in Dubai at Nordic Beauty is one of the most dynamic online courses for students who want to take care of the styling needs of their customers. These courses are designed for people who wish to learn sought-after and celebrity-oriented hairstyles. The versatile nature of these hair courses allows students to choose from several trending braids, runway and classic hairstyles, fashion hairstyles, bridal hairstyles, etc. Apart from these, you can learn about safe coloring techniques similar to red carpet styles.
It's also ideal for students who want to learn haircutting techniques from the comfort of their homes. You can cover these courses' essential and theory parts from their home via online lessons. Besides, they'll undergo a practical training program that will teach them to assess clients' needs and design a master plan accordingly. If you want to become a professional hairdresser- you're at the right place! You can access several coloring products and tools while mastering the marketing techniques.
Most of these classes are conducted by famous hair salons. You'll be able to learn about a wide assortment of color applications and their techniques. These techniques are popular amongst the celebrity clientele. Besides, the experts will reveal the secrets of color application to achieve the best results.
You can learn about trending colors, client tips, looks, etc. An online hair coloring course will help you to know everything about hairstyling. The course compiles three types of hair courses to learn about hair cutting, coloring, styling, and so on.